CAHOOT
BRIEF


We were asked to look at the Hiring process as a whole and see how we can improve a system that we have all grown accustomed to through design thinking. We had to identify areas where managers and business owners struggle and what it is the point of friction for both parties during this process. We had six weeks to design a solution.


DISCOVERY
We needed to understand what exactly it was that we were referring to when we spoke about Hiring. According to the Cambridge dictionary: "Hiring is the act of starting to employ someone." Right then we knew that hiring only starts when someone has been chosen, i.e. shortlisted and selected to work at the organization.
We began conducting desk research to understand what exactly this process entails. Once, we started reading we started discovering that different organizations have different methods ranging from legal requirements to team building to following the rules and regulations of the organization.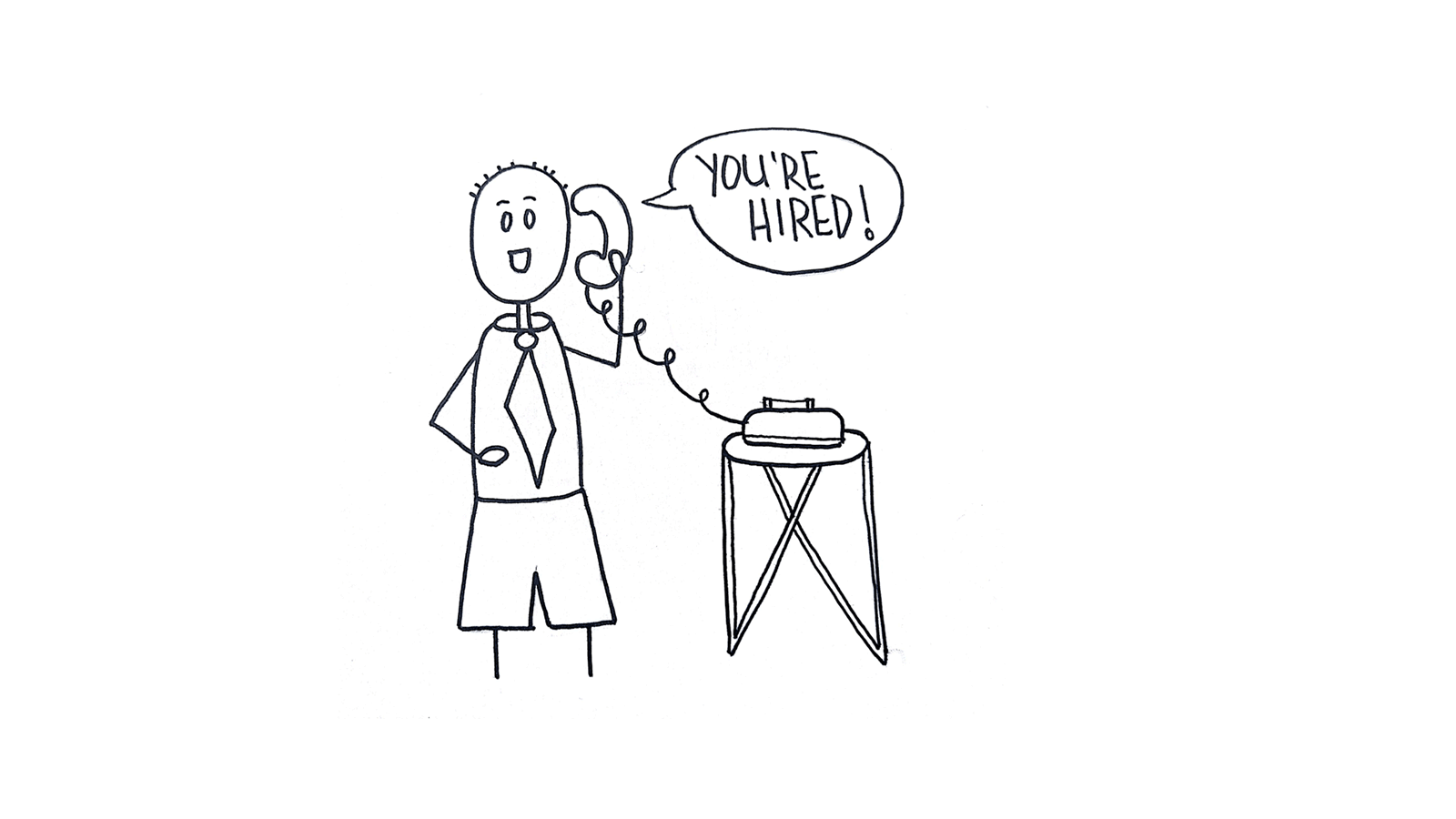 These hiring processes are standard in most places and to be entirely they're pretty boring. When we started conducting interviews, it was clear that employers nor potential candidates enjoyed going through the motions of this normal process. We began discussing our own hiring stories, and one of them really resonated with us.

ormal process. We began discussing our own hiring stories, and one of them really resonated with us. We all shared our personal hiring experiences and how we felt about the process.

The story follows the journey of recently hired millennial working at a corporate firm, by beginning as an exciting new hire eager to prove himself to finally quit due to the frustrations caused by bureaucratic, hierarchical structures.

USER JOURNEY

This was when we started realizing that the pain point lied in retaining employees and not only in hiring them. We interviewed more people and found out that this story repeated itself multiple times. The typical user journey had 4 touchpoints: Getting Hired, The Honeymoon, The Complacency Phase, and finally The Break-Up.

The top line represents the employee and the bottom the employer.


INTERVIEWS


We had a few assumptions about the points of friction in the process, so we began by conducting user interviews. We interviewed 20 people which consisted of current employees, employees who have recently quit and employers/ managers to arrive at some insights about the ecosystem.

INSIGHTS

01. Millenials need mentorship it allows them to learn & grow while feeling supported




02. Money doesn't always ensure that millennials will stay with their organisation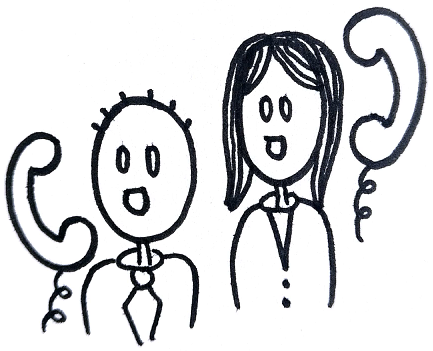 03. Employers need to create an environment where employees feel comfortable communicating openly.




04. Millennials look for a sense of belonging and purpose especially at their workplace.
Synthesizing our research into areas of opportunity took us a lot of post-its and several hours of fun brainstorming sessions.

A Peek into our process: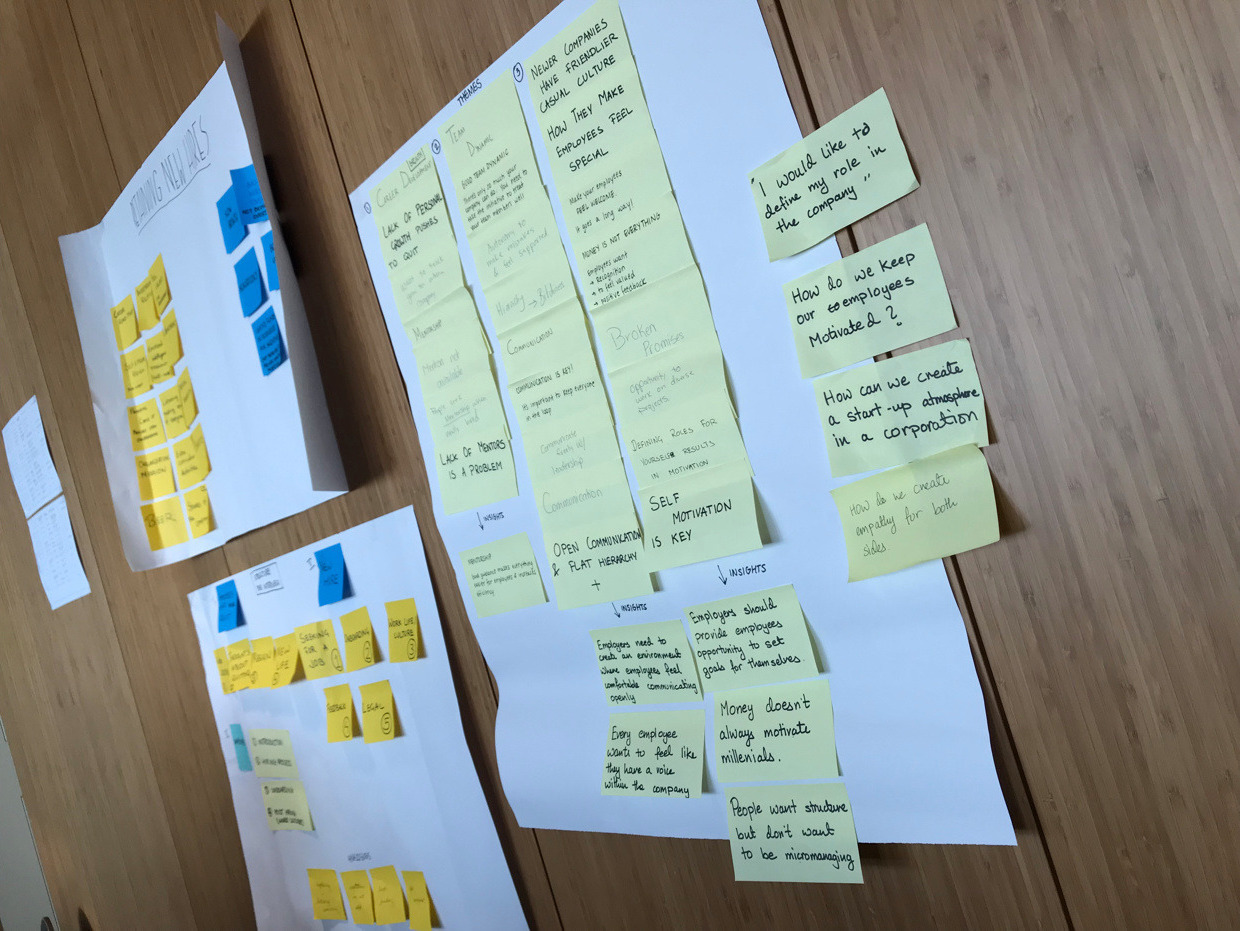 These insights allowed us to frame how-might-we statements or opportunity statements:
How can we help employers and employees develop empathy for each other to improve communication?

How can we help bring purpose into focus?




How might we provide employees career development plans that motivate them?




How can we improve interpersonal relations at work that promotes healthy communication and improves employee satisfaction?
Once we had identified the user's needs and pain points, we started thinking of how can a digital product address these requirements and fit in the corporate ecosystem? We had to decide how we envisioned the solution. Would it be a digital platform? A physical installation? An interactive website? A physical manual? A designed service? Before we finalized on what it would be, we decided to think about what should it do to give us the right answer.


Once we started brainstorming and connecting themes, it became clear that we were looking at building an Enterprise Social Network.
BRANDING


Now that we knew what we were going to design, it was time to develop the brand. We wanted the brand to symbolize connections and harmony. At the same time, the brand needed to have a young spirit while also looking modern.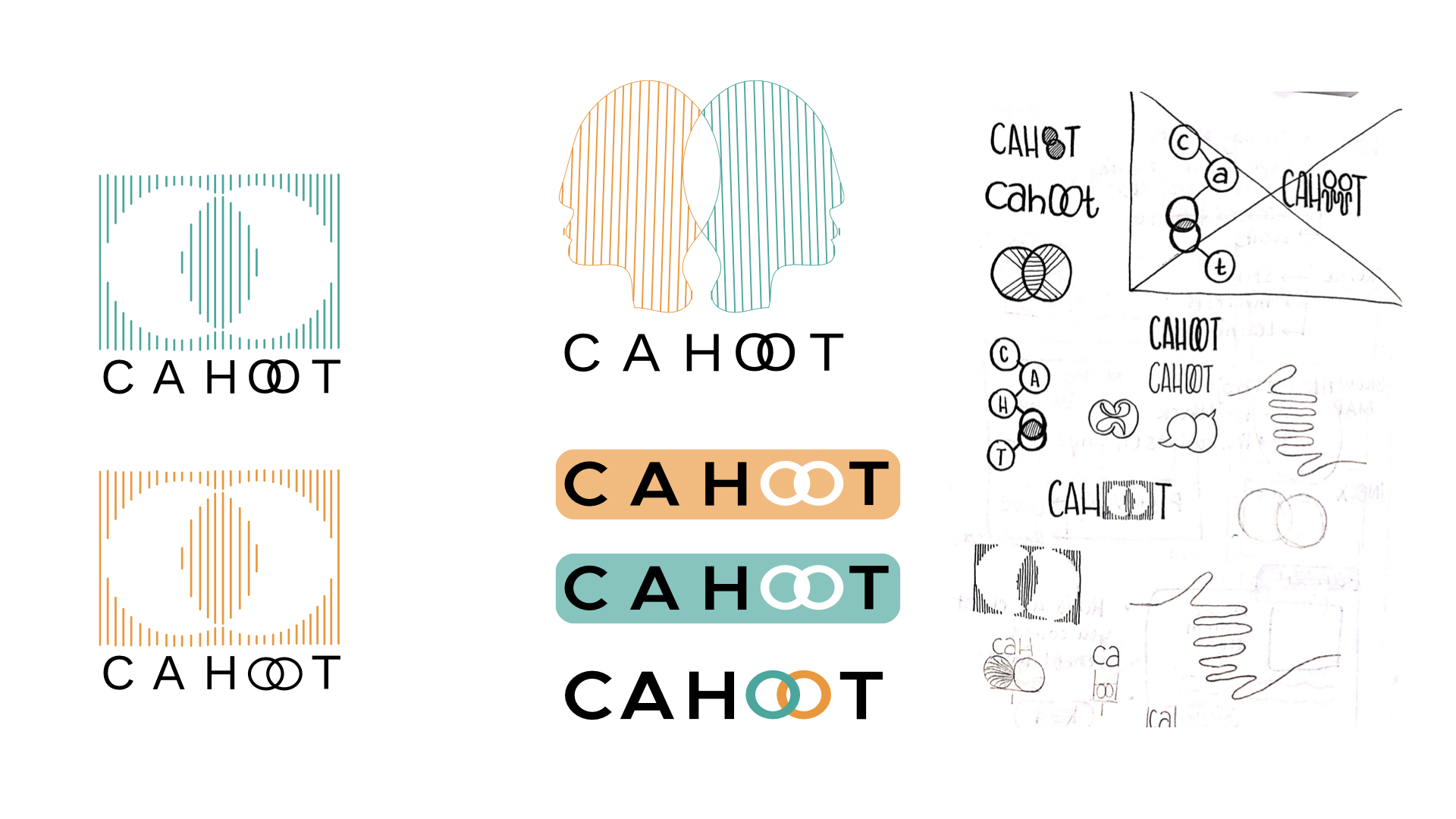 We chose the name Cahoot because when it's said that you're "in cahoots" with someone, it means "in an alliance or partnership." We thought we could playfully use this word and let our users know that the platform is all about promoting conversations and collaboration in a friendly, casual and yet formal setting.

Onboarding:
One of the most critical touch points for a new employee was their first interaction with the organization. We wanted to create an onboarding process that was friction-less. Every employee would be assigned a 'buddy' based on mutual interests, age, the field of work which would help them get settled in the company.


User Profile:
We envisioned the product to create basic profiles for all users that allows them to start using the platform without putting in a lot of information. Once the user is familiar with the product, they can add their individual preferences, skills and what you'd like to learn. We consciously decided to exclude employee's role but show what do they do.




Connecting coworkers:
As mentioned earlier, we wanted to develop a culture where employees are encouraged to talk to each other and set aside time for learning, teaching, and social interaction.
Feedback:
We wanted to design the feedback process in a way that as some people might say 'forces' the user to participate. This was a conscious decision as we believe that if people are given a choice to opt out, they might never do it. That being said, we wanted to make the process quick and straightforward.

TEAM
Priya Narasimhan
: Illustrations, branding, concepting
Nadine Kabbara
: Video, branding, concepting
Shivani Sawant
: UX/UI, wireframing, concepting, prototyping
Pedro Bare: UX/UI, wireframing, concepting, prototyping