APP DESIGN
HOTSHOT
Interaction design / UI design
This project started off as a capstone project as part of our Master's in Interaction Design at Harbour Space University. It came from Boris Peshev's experience as a high school tennis player in New Zealand attempting to make it past multiple obstacles to achieve his dream of playing college tennis in the U.S.
---
Goal


Our Goal was to develop a tool that facilitated comunication between international tennis players & U.S. college coaches during the recruitment process. The desigin reflects the Coach's perspective through out the recruitment process.
Stage 1: Understand


College Recruiting Deep Dive

The process started with finding out all of the key requirements that international players had to gather in order to become eligible for coaches to recruit. It started by looking at the NAIA & NCAA rules and regulations as it related to everything involving recruitment. We needed to become familiar with the entire proces in order to develop a solution that could succesfully aid coaches without violating NCAA & NAIA rules.


Stage 2: Research
User Research
In this stage we reached out to Coach's in order to gain an understanding of their experience during the recruitment process. It was important for us to understand if they had any frustrations during this time, what they were, and why? Once we knew that there were frustrations on their side we probed a little deeper and asked them how they recruit? What steps do they take to vet potential recruits? What are they looking for specifically in a recruit? and how do they evaluate the actual talent level of a recruit if they can't see them in person?
All of these questions helped shed light on what coaches typical recruitment experience is like as well as their highs & lows during the recruitment process.
Coach Persona
User Journey Map
We found that the key point of friction for the coach in their recruitment journey came when they had to validate whether the prospective player fit the key requirements to play college tennis in the U.S. – If not they would have to pretty much from scratch.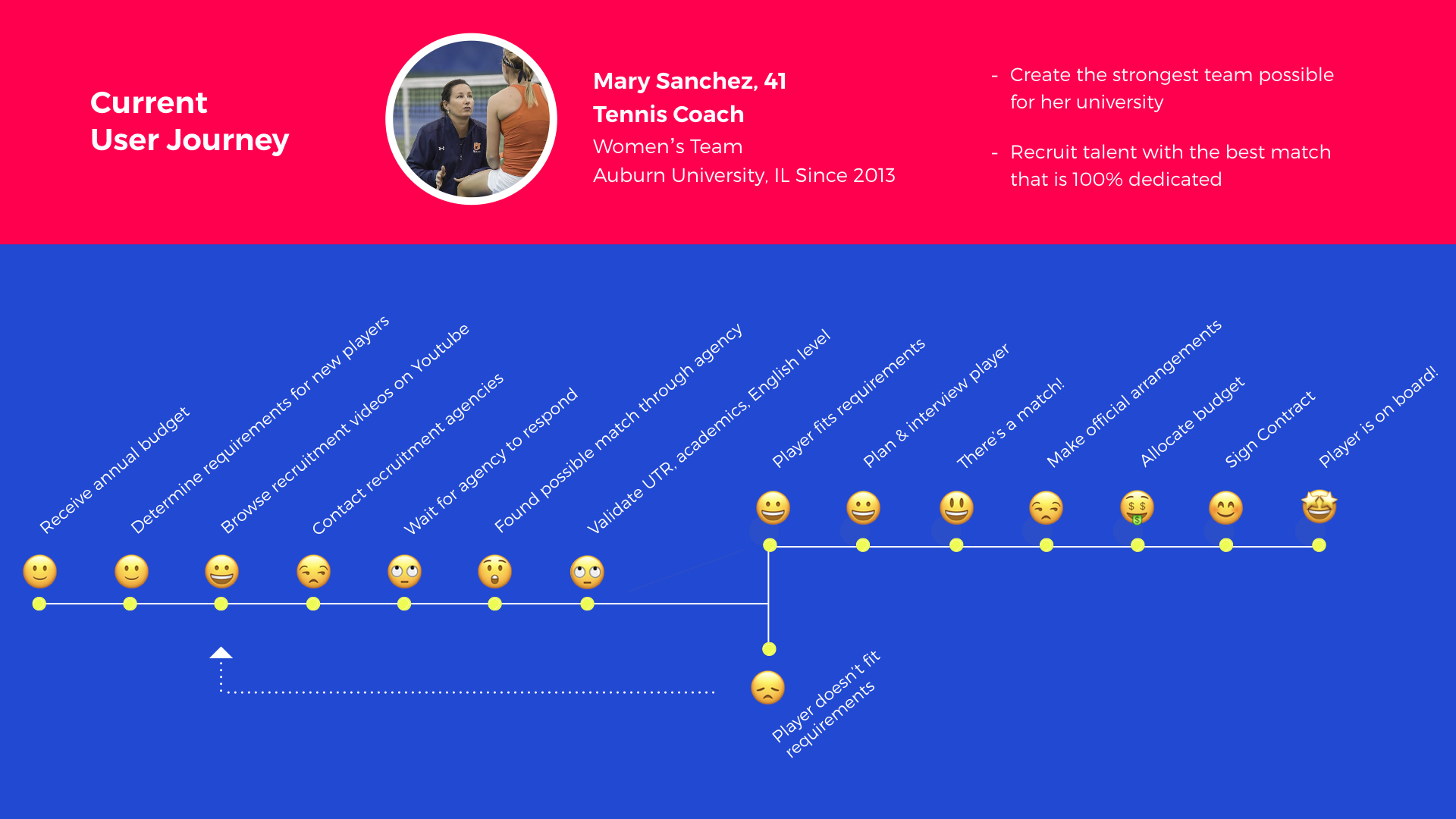 Storyboard
We created a storyboard to show the typical experience a coach would go through during the recruitment process as well as how coach would come in contact with Hotshot and start using it to make the process less of a hassle.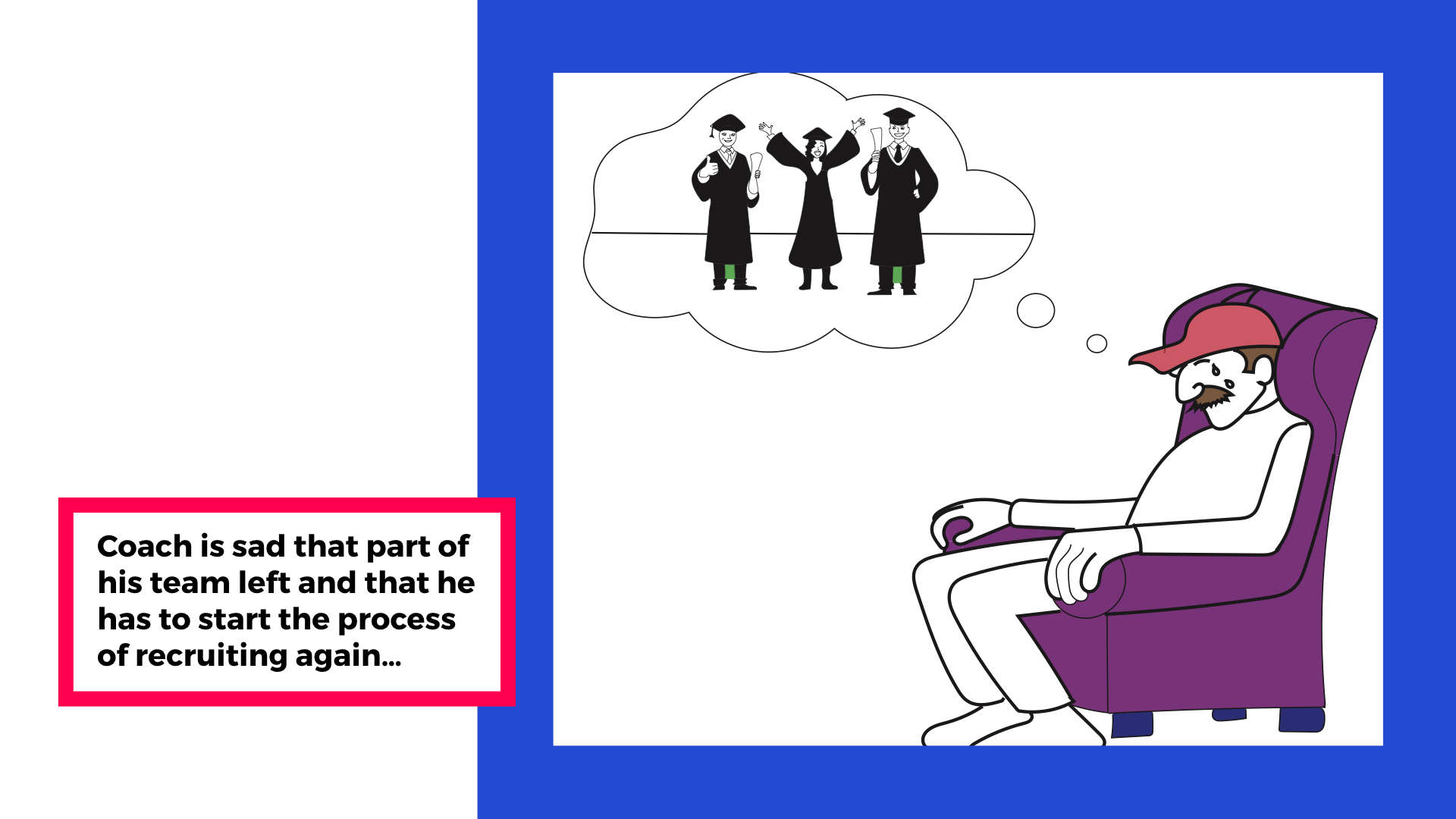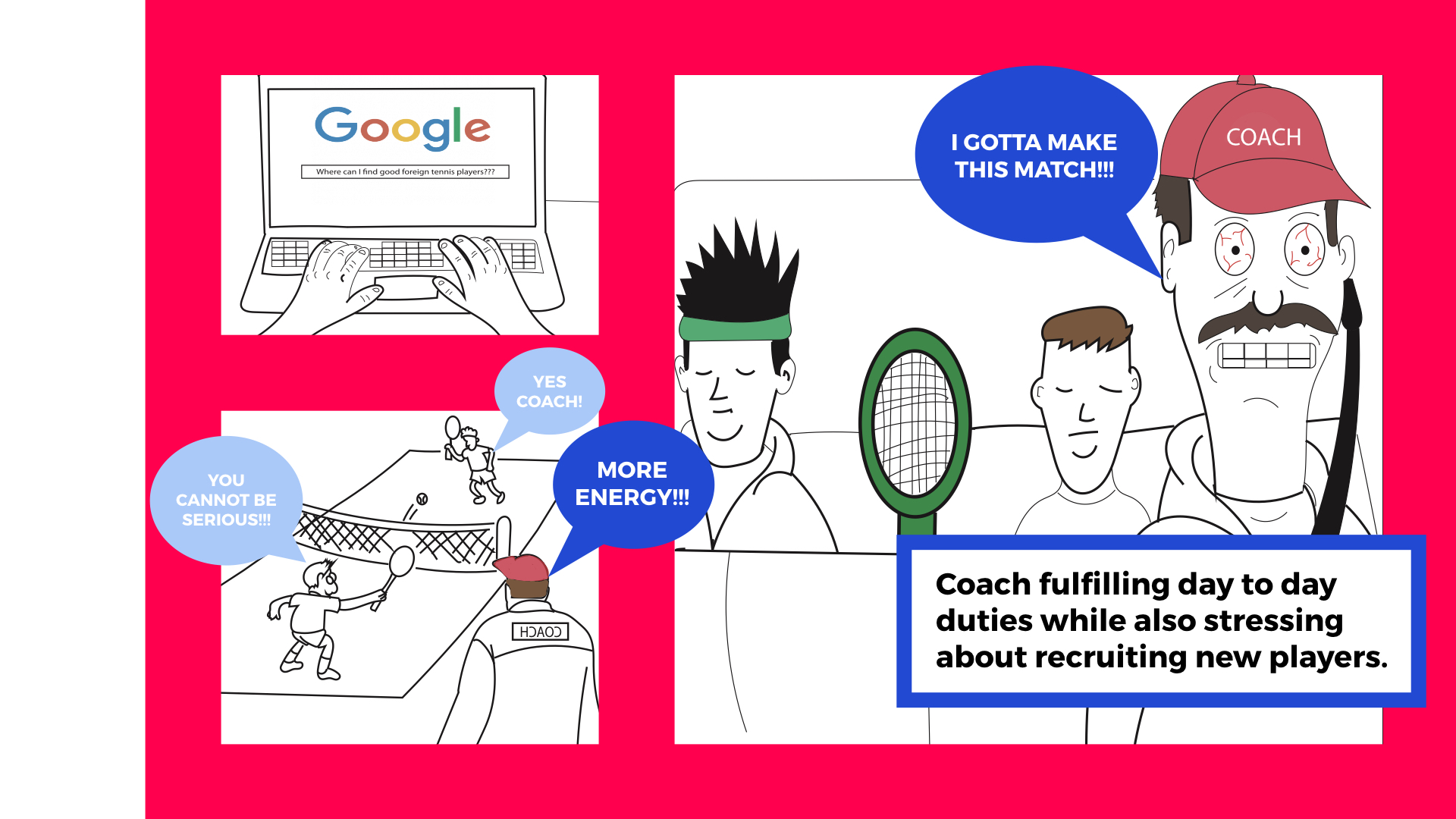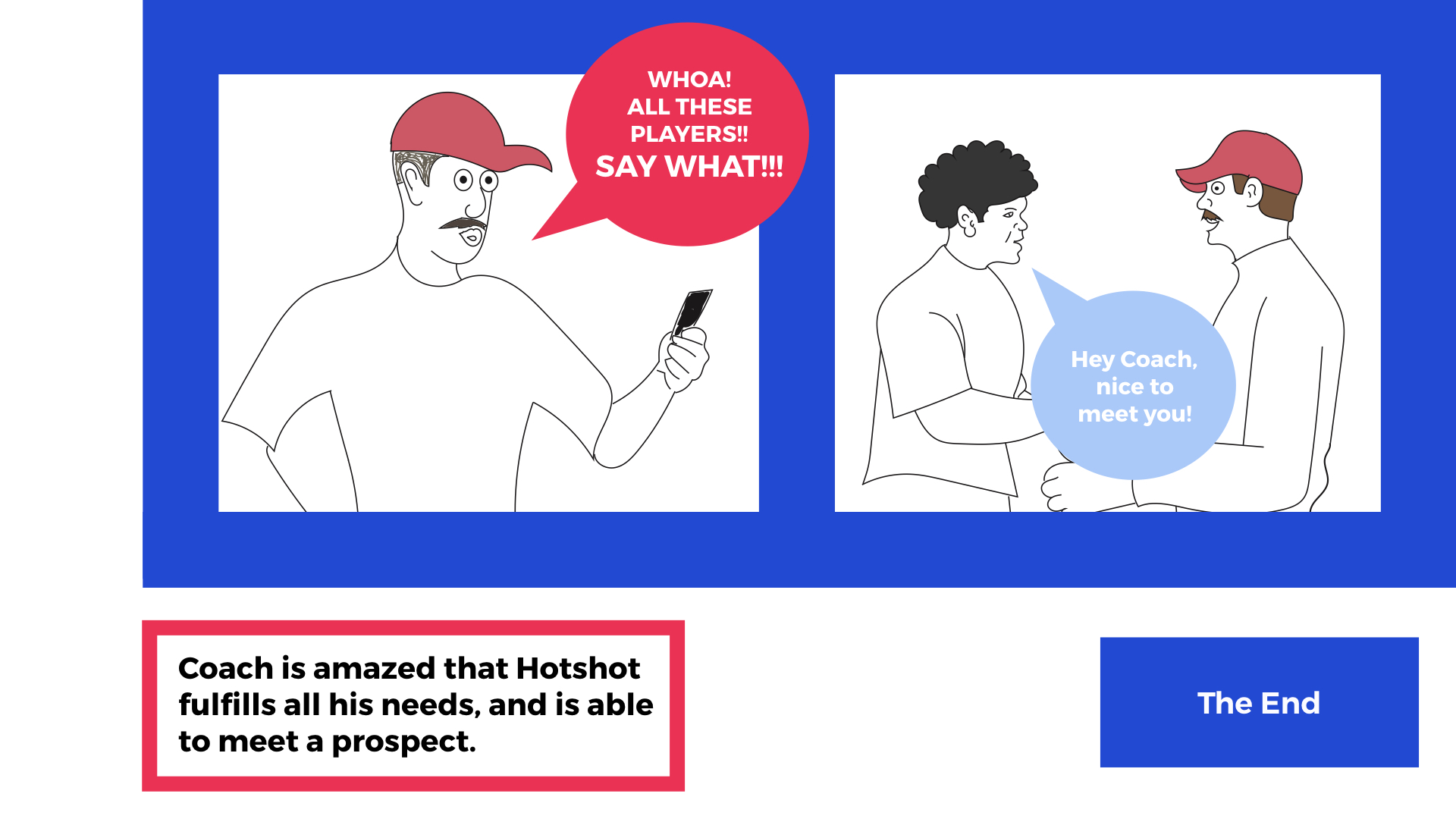 Stage 3: Solve
Wireframes & Prototypes

The final stage started from sketching and moved to wireframing. Some of the screens for the final solution can be seen on the left. As it was essential to present micro-interactions, especially since this app would be used on tablets, a few principle prototypes were built to demonstrate how the user experience can be improved


Sketches
Wireframes
Usability Testing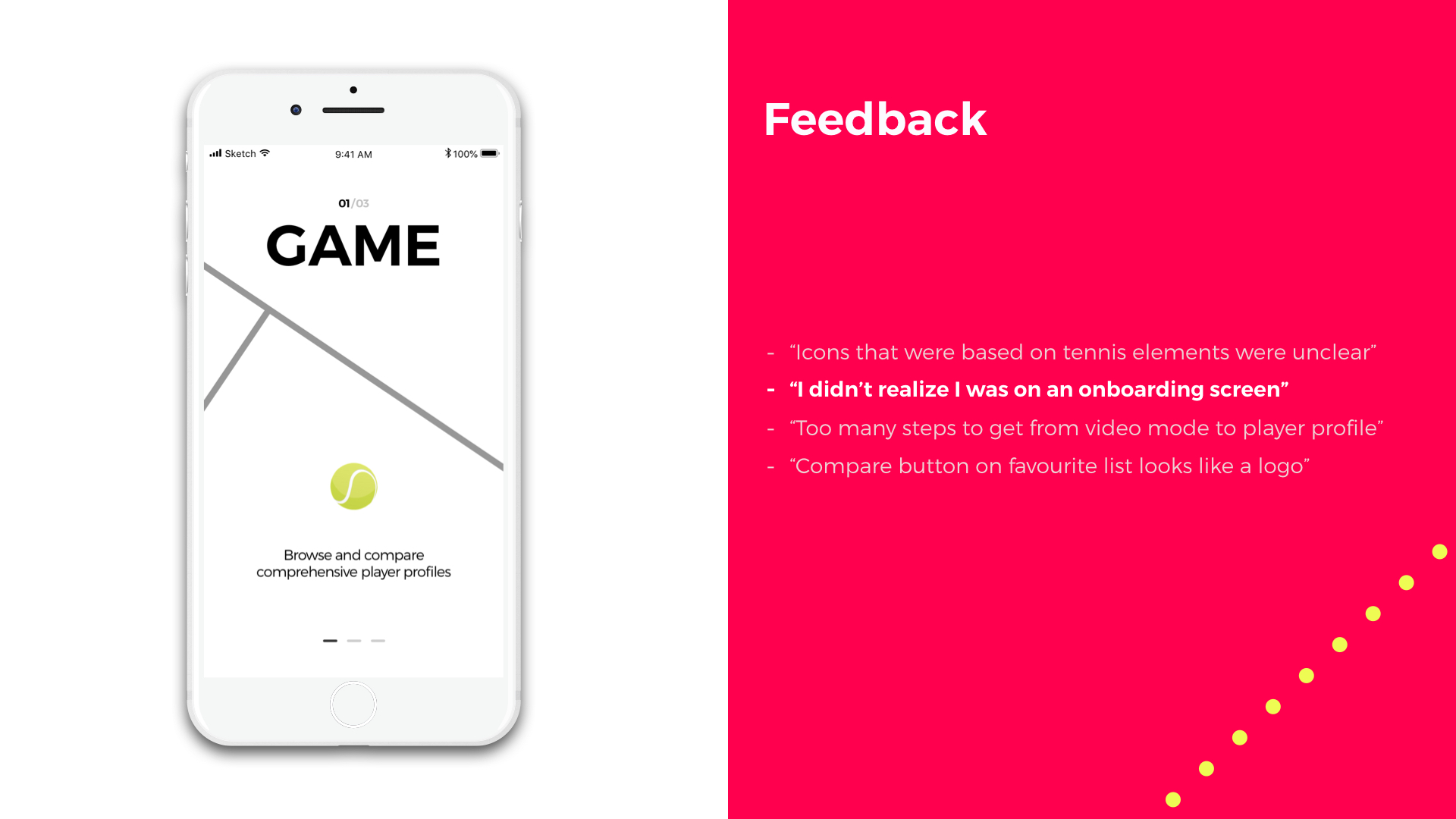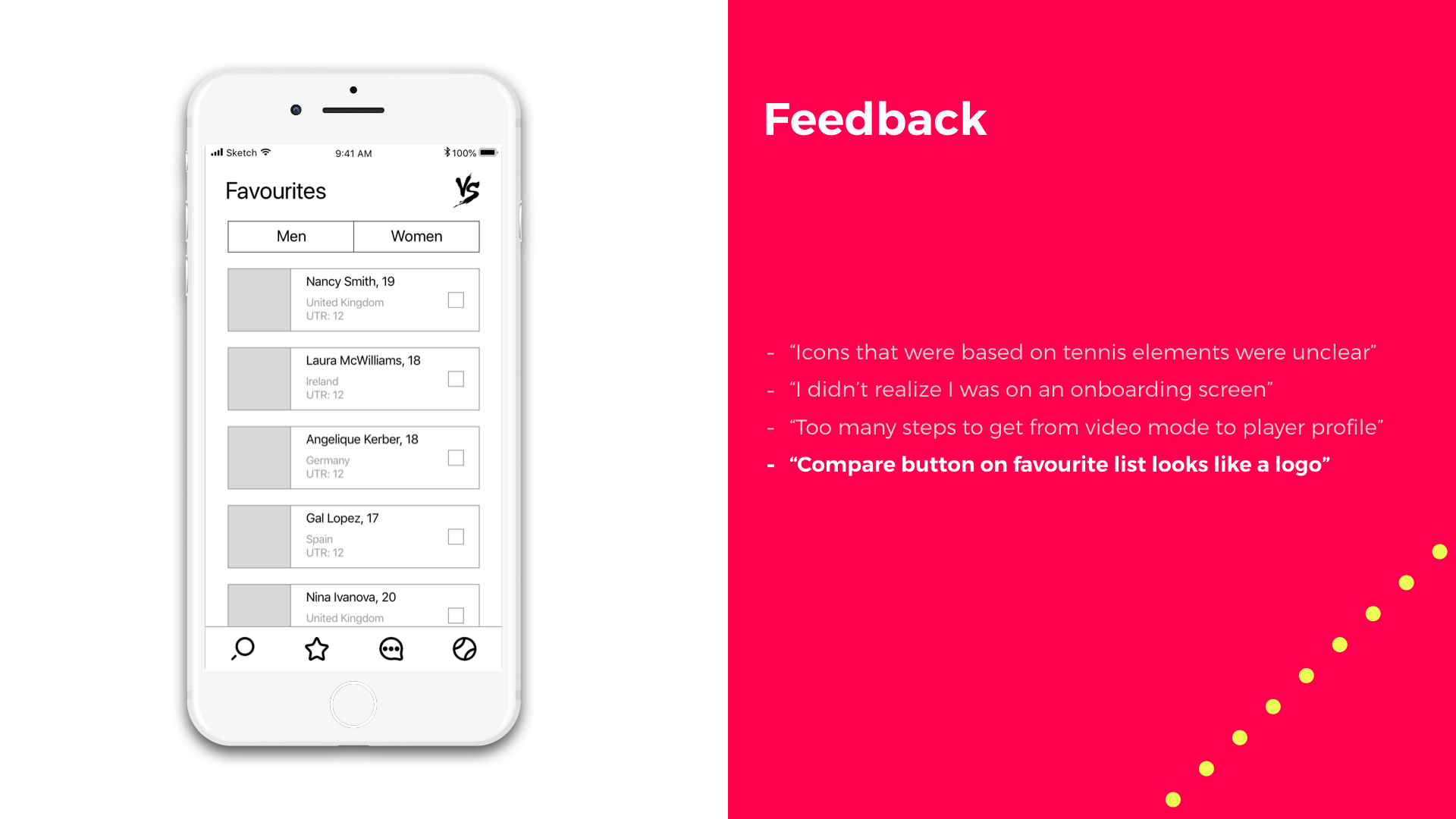 Branding
The distinct lines & patterns you see throughout the design are inspired from the design of a tennis court. When we incorporate future sports, we're planning on using the design of the sports respective court to create patterns unique to them.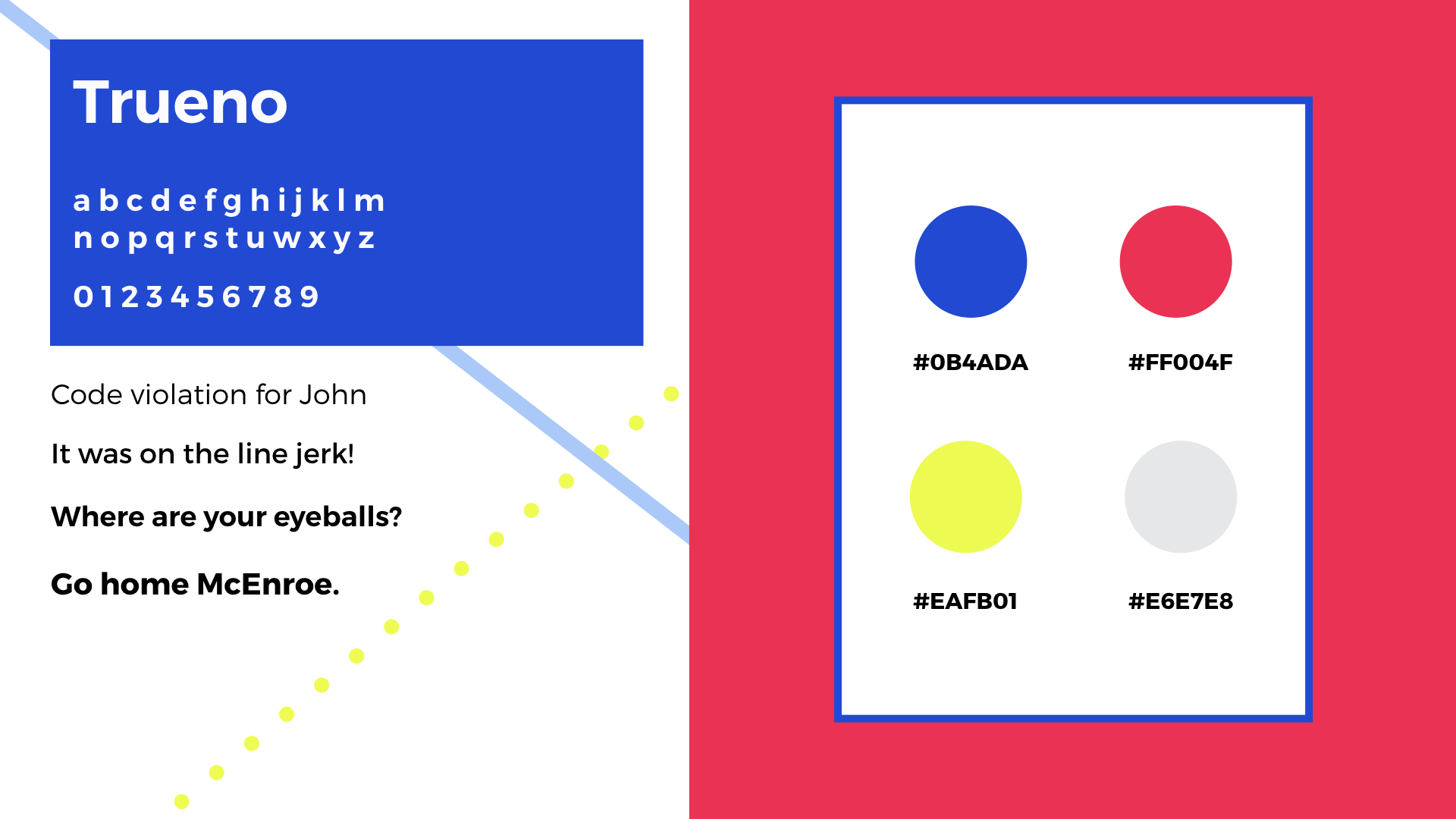 Final Designs

The distinct line patterns you see throughout the design of the lines that form a tennis court. When we incorporate future sports, we're planning on using the lines of their respective courts to create more patterns unique to each game.


Team —

Boris Peshev: Co-Founder, UX/UI, Art Direction, Branding, Research

Pedro Bare: Co-Founder, UX/UI, Concepting, Research

Pavithra Krishnan: UX/UI Designer (Coaches Interface)

Annabelle Frohn: UX/UI Designer (Coaches Interface)