WES Redesign

A brand refresh and website redesign for the leading credential evaluations service provider in the U.S. and Canada.
About WES

World Education Services (WES) is a nonprofit organization that provides credential evaluations for international students and immigrants planning to study or work in the U.S. and Canada. It was founded in 1974 and has steadily become the gold standard for credential evaluations.


Their audience is composed of applicants (primarily from India, China, and Nigeria) and universities/institutions who facilitate the international admissions of immigrant students in Canadian or American universities.
Leadership at WES was dissatisfied with their current web experience, and had the desire to burn it all down and start from scratch. We were tasked with a 5-week long redesign project for the website with the aim to improve user experience and create the future digital home of WES.
My Role
I was the UX and UI designer for this project. My responsibility was to craft the user experience of WES 'new look as well as making sure to improve usability, making the website responsive, and improving the visual design so that WES can offer a holistic experience that communicates their expertise, and reliability in credential evaluations.
Team members: Eric Roach (Top Left), Me (Bottom left), Yu Zhang (Top Center), Mackenzie Bennett (Bottom Center), Anne Greenwood(Right)
The Problem
The older website, as mentioned by new leadership, was too old looking and dated, they wanted something that projected their expertise, confidence, and dedication to the mission of empowering immigrants upward mobility in the U.S and Canada.

WES Applicant Landing PageBefore Redesign
They wanted the website to accomplish the folowing:
Create a holistic experience that educated both individuals seeking evaluations and insitutions looking to potentially partner why WES is the gold standard of credential evaluation services.
Help potential applicants feel secure in the investment they are making in WES by applying for a credential evaluation. Deciding to leave your home country for another country is a live chaning decision and we want our applicants to know that we are here to help them in this crucial transition.
Competitive Analysis

I wanted to get an idea of how other credential evaluation services positioned themselves within the space and I also wanted to understand how they told their story so I been to began looking meticullously combing through their sites.
WES' previous website wasn't the worst among its competitors but it definitely needed an update. The website was visually dated, it had a slow loading speed, and it didn't stand out visually from their competitors, and it didn't accurately reflect their expertise in the non-profit and credential evaluation space.
Website Audit

As I began to look deeper into the current web expererience I was able to identify some problems - Some of which were:
Information architecture was not clear in helping users navigate content
The information on many pages was redundant or many cases provided conflicting incromations about key points in the credential evaluation process that caused confusion for users leading to surge in help inquiries

Previous design did not provide a unifying experience for the b2b & b2c audience
Did not meet web accessibility base standards
Based on our discussions with stake holders the website's outdated look didn not inspire confidence among potential new customers or instutional partners
Screenshots of the WES experience prior to the redesign
Information Architecture
Before we dived into anything visual we needed to understand what was under the proverbial hood. My goal was to understand the current information architecture, what were the issues users had when using the navigation.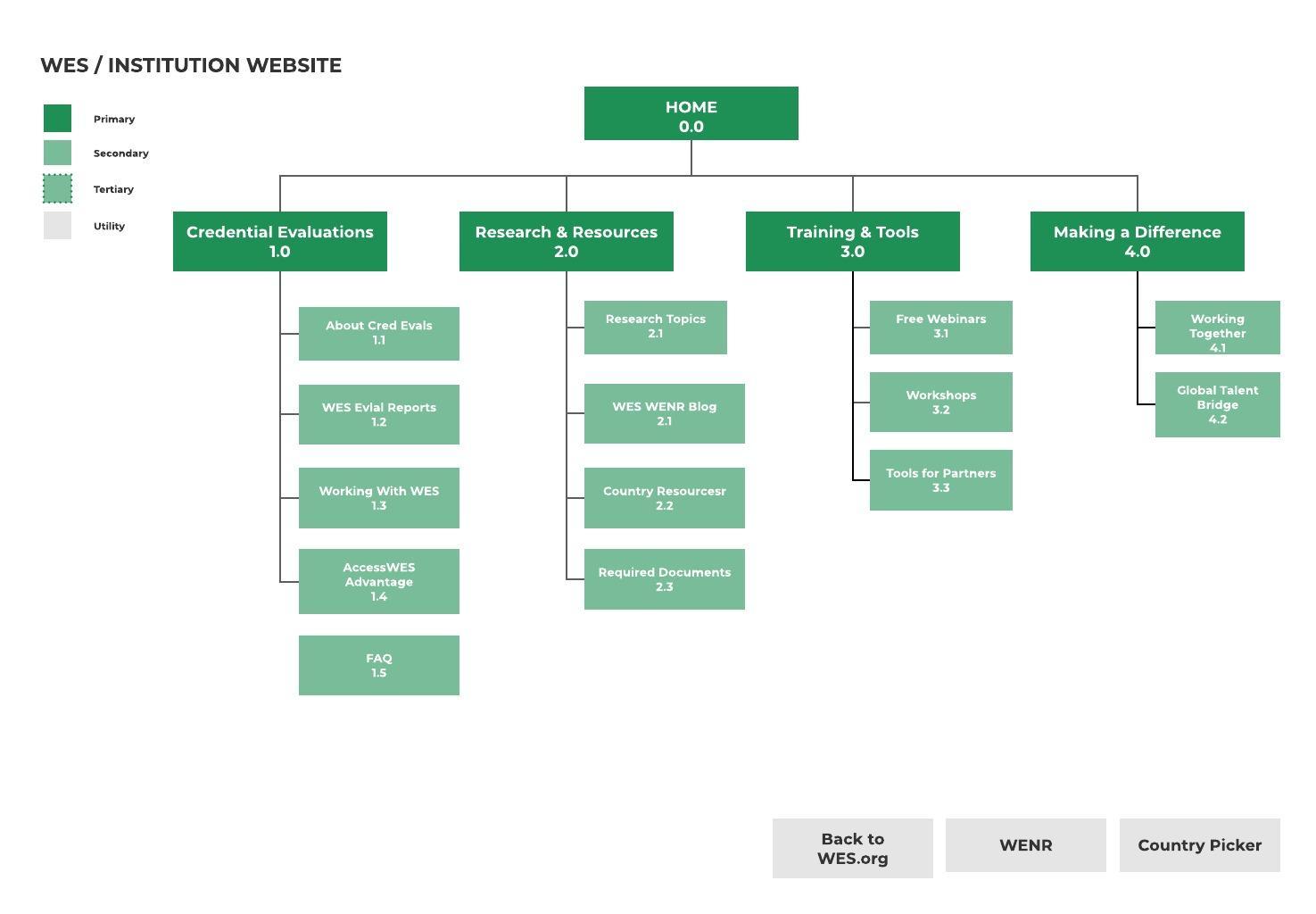 WES had two different experiences/ two different landing pages - one for their b2c audience and their b2b audience. The default landing experience was the applicant landing page and by using the navigation, a user who fell into the b2b audience bucket would then navigate to the institution's landing page.
We learned that many users that would come to the WES website through organic searches. Since the b2c and b2b experience shared similar wording and often had pages with the same information without distinguishing who the information was explicitly for.
Updated IA
WES' philanthropic content was not accessible through the current architecture of the site. Based on our interviews with stakeholders, we knew that WES wanted to feature their mission-related work.
Wireframes & Templates
While coming up with wireframes I worked on the interaction model and made sure that all that pages would fit into some core templates. Each templates that can be used together in order to develop custom pages.
Accessibility
Tackling accessibility and making the site accessible in this project was a point of emphasis made by WES leadership. The previous experience had a litany of accessibility problems like: contrast, interaction, inadequate keyboard access, missing alt text for images, and illegible text.
Color Contrast
Navigation prior to redesign
Updated Navigation
There were discussions of changing the brand colors at WES, and this naturally became a topic of intense debate because the brand colors, specifically the WES Green(#1F9055) was part of the original branding from 1974.
Instead of using green as a primary color, I decided that it would be a good idea to use it as an accent color as an assist indicating interaction.
Landing Page Design
Hero Section
The older website had a static hero section treatment which lent itself to the past siloed approach. Since we were creating one landing page the approach we took was to incorporate a hero slider. The hero slider at the top allowed us to convey key information to our users in a clear and digestibel way.

Mosaic


This section of the landing page to give an overview of WES's keys programs and intiatives. I wanted to increase user interest in WES as an organization and use this component as viehicle as story telling component giving users insight into what WES does for people and how comitted they are to their mission.

Testimonials


The older website's testimonial section didn't do a great job of grabbing a user's attention the idea was to design section so that it speaks to people.
By using images and a video of our past applicants experience we were able to show that we are invested in helping people and that our service is trustworthy.
Final Designs
The new design is clen and provides users with valuable information quickly. The use of new photography, and an updated color scheme to improve accessibility allowed for us to present content in a more engaging and dynamic way leading to a strengthened digital presence.
Outcome

Overall, I was happy with the improvements we were able to implement within our 5 week timeline. As a team we were able to create an experience that represents WES devotion to their applicants and institutional partners. Personally, I was proud that I was able to actually complete such a large project on such a tight timeline.

The challenge I faced in this project was that I had a limited amount of time & budget for research and since the major goal was to overhaul the old experience I relied on UX best practices in order to create an experience that would lift the WES Brand.


---